Sageca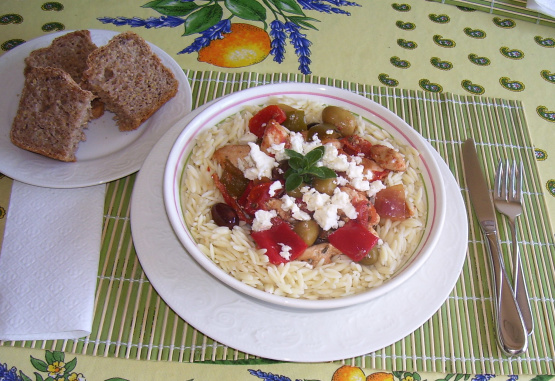 Posted for Zaar World Tour 2006...a simple sounding pasta dish quick and easy enough for the weeknight rush

Wonderful recipe, simple to prepare, tastes awesome. I'm a great fan of the "Greek taste" in cooking. I used Kraft's Greek vinaigrette and added some dried rosemary and fresh Greek oregano (which I grow) during the cooking as well as some salt when done. I'll make this again and again. Thanks for the recipe.
Cut chicken into chunks and stir fry in olive oil until cooked.
Add olives, red onion, and green pepper; fry until softened.
Add spaghetti, dressing, feta cheese and tomato; stir fry until thoroughly heated and well combined.
Serve hot. Serves 4 generously.