Prep 10 mins
Cook 1 hr 20 mins

Guilt-free fries! By all means try the malt vinegar, other vinegars won't be the same. Very easy.
Directions
Cut each potato lengthwise into 8 wedges; place in bowl, cover with cold water and let sit for 30 minutes; drain.
Pat dry with paper towels; toss with oil and place skinside down on greased baking sheet; combine oregano, salt and pepper and sprinkle over potatoes.
Bake in preheated oven at 400° for 45-50 minutes or until they are browned and tender; remove and sprinkle immediately with malt vinegar and serve.
Most Helpful
Very very good =] Thank you for sharing!! May I ask why we were to soak the potatoes? I suppose that's what allowed these to be successfully wonderful compared to what I've made before =]
These really smelled delicious cooking, and hit the spot otherwise :) I'm also happy to report that the second grocery store I went to had malt vinegar. I don't know why the first one didn't, it's not that unusual! I had this with a veggie burger on the side. Completely guiltless burger and fries, with a side of green veggies. We were so virtuous last night, heh heh. P.S. I did add extra salt, and they did not stick to a non-stick pan that was sprayed briefly with olive oil. They ended up crispy outside and soft inside.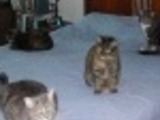 The malt vinegar really tops it off! Takes me back to eatting french fries as a kid on the beach in Canada. Fantastic!