Greek Orzo Stuffed Peppers
WiGal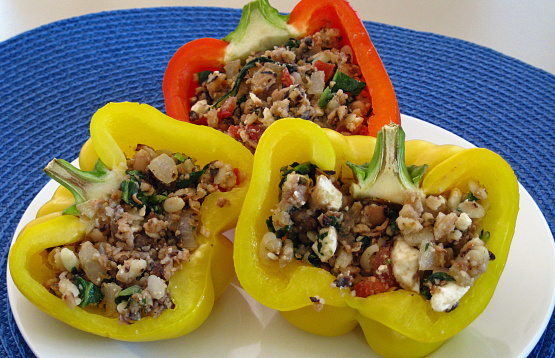 Recipe from Eating Well Magazine, March/April 2009. This is a low calorie option and I love that it's cooked in micro and stovetop. . .no heating up the house with the oven!

Top Review by WiGal
Love colored peppers and this is going into my collection! Really enjoyed -think the vinegar is a key flavor. Made this ahead, nuked them a bit, and had them for lunch. I subbed black eyed peas for the chick peas and fresh tomato (well drained) for the sun dried. Thanks JanuaryBride for another keeper!
Halve peppers lengthwise through the stems, leaving the stems
attached. Remove the seeds and white membrane. Place the peppers cut-side down in a large microwave-safe dish. Add 1/2 inch water, cover and microwave on High until the peppers are just softened, 7 to 9 minutes. Let cool slightly, drain and set aside.
Meanwhile, bring a large saucepan of water to a boil. Add orzo and cook until just tender, 8 to 10 minutes or according to package directions. Drain and rinse with cold water.
Mash chickpeas into a chunky paste with a fork, leaving some whole.
Heat oil in a large nonstick skillet over medium heat. Add onion and cook, stirring, until soft, about 4 minutes.
Add spinach and oregano and cook, stirring, until the spinach is wilted, about 1 minute.
Stir in the orzo, chickpeas, 1/2 cup feta, tomatoes, vinegar and salt; cook until heated though, about 1 minute.
Divide the filling among the pepper halves and sprinkle each pepper with some of the remaining 1/4 cup feta.