Greek Orzo Salad With Chickpeas & Artichoke Hearts

Quintessential Greek flavors - feta, lemon and dill - combine perfectly in this hearty salad. To complete the Mediterranean mood, try pairing it with a Greek Retsina or a Portuguese Vinho Verde. From EatingWell magazine May/June 1996, and "EatingWell Serves Two" Dietary Exchanges: 4 starch, 2 vegetable, 1 very lean meat, 1 fat (4 Carbohydrate Serving). Posted for ZWT6. NOTE: Recipe amended to indicate fresh lemon juice and optional addition of some greek seasoning for more flavor.
Directions
Bring a small saucepan of water to a boil. Cook orzo until just tender, about 9 minutes, or according to package directions. Drain and rinse under cold water until cool. Press to remove excess water. Transfer to a medium bowl and toss with oil.
Mash garlic and salt into a paste with the back of a spoon in a medium bowl. Whisk in lemon juice and pepper. Add the cooked orzo, artichokes, chickpeas, feta, dill and mint; toss gently to combine. Add tomatoes and toss again.
Divide spinach between 2 plates and top with the salad.
Reviews
Most Helpful
I almost did not change a single thing in this salad. I did use fresh dill and mint since I had some leftover from another recipe, as well as a teaspoon of seasoning (not Greek though). I also used a 15 ounce can of chick peas. Very healthful and super tasty. Going into my quick and tasty cookbook. BF and I ate 1/3 each as a side (with a chick'n patty since we're vegetarians). I'll finish up the other 1/3 for lunch. Great for vegetarians, and easy to make vegan. Thank you!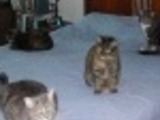 Very nice and tasty! I used a gluten-free orzo and grape tomatoes. Perfect!
Made as written but only 1 t. dill and left out the garbonzo beans as DH doesn't care for them.

Summer Central