IngridH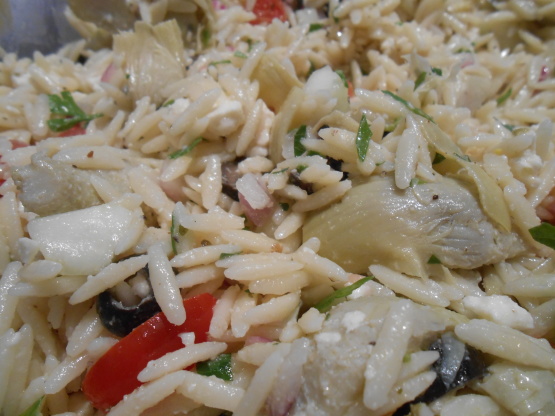 A delicious, colorful salad, with artichoke hearts and feta. I receive a lot of requests for this one.

We really enjoyed this salad. I had to add some olive oil, as my artichoke brine was mostly water/vinegar based, and added some salt to taste as well. A great potluck salad, especially if you want to bring something that isn't mayo based and don't want to worry about spoilage. I'd use kalamata olives next time instead of black, since they have so much more flavor; but as is, this is a very good salad. Made for ZWT9.
Bring a large pot of lightly salted water to a boil. Add pasta and cook for 8 to 10 minutes or until al dente; drain. Drain artichoked hearts, reserving liquid.
In large bowl combine pasta, artichoke heats, tomato, cucumber, onion, feta, olives, parsley, lemon juice, oregano and lemon pepper. Toss and chill for 1 hour in refrigerator.
Just before serving, drizzle reserved artichoke marinade over salad.