Prep 20 mins
Cook 25 mins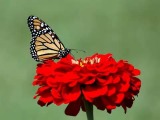 A healthy delicious Greek dish which utilizes orzo pasta along with all the trimmings. Recipe appears in my America's Best Cookbook and was contributed by the Charlie Daniel's Angels Cookbook.
Directions
Cook orzo according to package directions; drain. Set aside.
Remove and discard broccoli leaves and tough ends of stalks. Wash broccoli thoroughly and coarsely chop. Cook broccoli in a small amount of boiling water 8 minutes or until crisp-tender. Drain well.
Cook pine nuts in olive oil in a small skillet over medium heat 2-3 minutes or until browned, stirring often. Add red pepper; cook 1 minute, stirring constantly.
Combine orzo, broccoli, pine nuts, feta cheese and remaining ingredients in a large bowl; toss gently. Serve immediately.
Reviews
Most Helpful
Very very yummy. I loved the toasted pine nuts. I omitted olives because I hate them, used greek basil because I could. Otherwise made as stated. Made for ZWT 9 for the Tasty Testers

Made as written, mmm, this is Excellent, Nancy! I was horrified to find as I started prep, that I had no feta cheese! Not knowing what to sub, I simply made it without ........ I will make this again with feta, but I've got to say, it's really really good even without it! super healthy too! very glad I tried this recipe, made for PRMR tag game, thank you Nancy!

This is really a wonderful combination of flavors. I love how nothing overshadows anything else. You do need to add an amount for the olive oil. I'm guessing you meant 1/4 tsp (I used more). I did steam the broccoli, and used the stems too after peeling away the tough outer skin.