flower7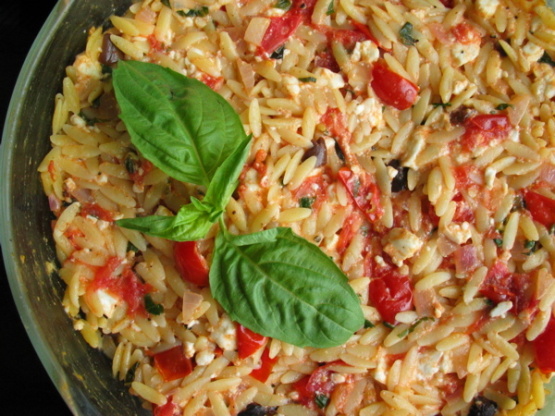 I whipped this up one day to compliment some Greek BBQ chicken legs. This recipe is great warm or cold. It's also versatile, so you can add to it whatever suits your taste.
It was delicious and very easy. I've already made it a second time and I'm sure I'll make it again.
Preheat oven to 325.
Cook Orzo until al dente.
While the orzo is cooking, sauté onion and garlic until softened.
Stir in tomatoes and cook for 2-3 minutes.
Turn off heat.
Add the olives, oregano and basil to the pan and mix well.
Add the drained orzo, crumbled feta cheese, olive oil and stir.
Add salt and pepper to taste (keep in mind the olives are pretty salty, so you don't need to add much).
Transfer to an oven-proof covered baking dish and bake in the oven for 15 minutes.
Remove, serve and enjoy!