duonyte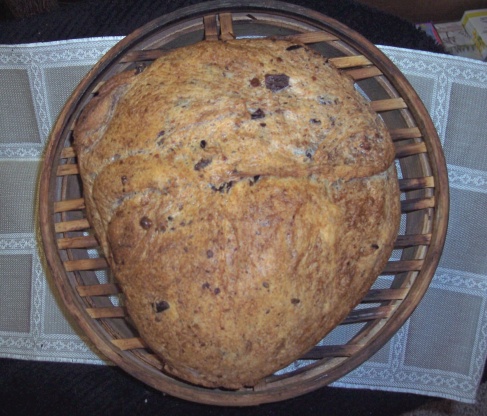 Nuggets of feta cheese and olives stud this delicious loaf, perfect with grilled or barbecued lamb or chicken.

I took the tips & added sun-dried tomato strips & green olives w/pimentos along with the Kalamata olives - subbing as I realized at teh last minute I did not have feta on hand. I used olive oil from the sun-dried tomatoes - lent a beautiful rosy cast to the bread. I did add 2 teaspoons of vital wheat gluten to the mix. Used my trusty ancient bread machine on raisin setting for mixing & first rise - divided dough into 2 rounds & rose them on a scattering of sesame seeds for 45 minutes. The loaves rose amazingly high - baked @ 375 degrees F for 40 minutes. These loaves look beautiful, feel soft & taste unbelievably great! I'm taking one in to periodontist's office in am when I go for another surgery - bribery works! :) Thank you Olga Drozd for a recipe I plan to use several times during the holidays! (Next time with feta!)
In a large mixing bowl stir 3 cups of the flour, the yeast, sugar, and salt together.
Make a hole in the center of the dry ingredients and pour in the 2 tablespoons olive oil and the water.
Stir until all the dry ingredients are moistened.
Cover and let stand for 15 minutes.
Sprinkle a work surface with flour.
Scrape dough out onto the floured surface.
Dust the top of the dough with flour.
Knead until the dough is smooth and develops small bubbles just under the surface, about 5 minutes, adding more flour if the dough gets sticky.
Place in a clean, greased bowl, turning to grease all over.
Cover and let rise in a warm place until doubled, 1 to 1 1/2 hours.
Punch down the dough and pat it into a ½ inch thick circle.
Sprinkle with the olives and cheese.
Knead the dough lightly to incorporate the ingredients, then shape into a ball.
Pat out to make a circle 8 inches in diameter.
Place on a greased baking sheet.
With a 3-inch round cutter, cut a circle in the center but leave the round of dough in place.
(You can bake the removed center alongside the bread; it will probably cook faster than the circular loaf.) Brush the dough with the 2 teaspoons of oil.
Cover and let rise until puffy, 30 to 45 minutes.
Preheat the oven to 375 F.
Bake for 25 minutes or until the crust is a rich golden brown and the loaf sounds hollow when tapped.
Cool the bread on a wire rack before slicing.
Makes 1 round loaf.
Beatrice Ojakangas Baking Book.