Nif_H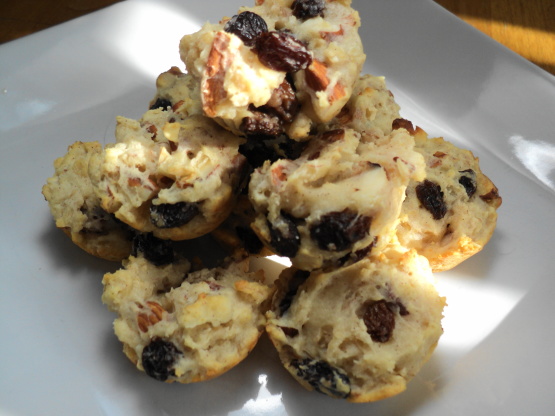 This recipe comes from Cora Wetzstein's book "Muffins for fruity moments". It is very easy and quick to make and the muffins come out moist and tasty. You could use all sorts of different yogurts, nuts and fruits in this recipe, so feel free to experiment.

Soooooo Gooood! I don't like overly sweet things and this hit the spot! I did add the cinnamon and went with half regular flour half whole wheat flour....amazing. I will be doing these again, they're now part of my cooking arsenal! Thank you!!
100

g flour

25

g rolled oats

60

g walnuts, chopped (or try almonds, hazelnuts, pecans)

1

teaspoon baking powder

60

g dried dates, chopped (or try raisins, currants)
1⁄4 teaspoon cinnamon (optional)

125

g Greek yogurt (plain yogurt will work as well, you can try different flavours, like e.g. walnut)

2

tablespoons honey, runny type

1

egg, beaten

2

tablespoons oil
In a big bowl combine all of the dry ingredients.
In a second bowl combine yogurt, honey, egg and oil.
Add the wet to the dry ingredients and stir only until just combined (do not overmix).
Fill batter into prepared muffin tins and bake in the pre-heated oven at 180°C/350°F for about 25 minutes or until a toothpick inserted in the centre comes out clean and muffins are nicely browned.