Linky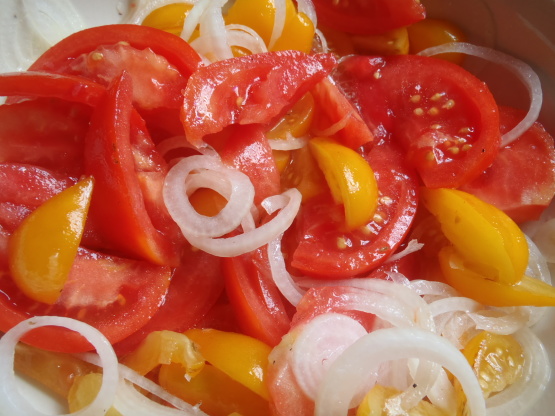 If you are like us you will want a loaf of French bread to soak up the marinated from these flavorful tomatoes. These tomatoes go very well next grilled marinated meats. **cook time is really chill time**

These marinated tomatoes are "To Die For". I halved the recipe and the marinade was perfect! I purchased some home-grown tomatoes at the Farmer's Market and this marinade really brought out their flavor. We absolutely love tomatoes and keep plenty on hand during the summer months so this recipe will be made again and again! Made for ZWT9, July, 2013.
Arrange tomato and onion slices in shallow bowl (I use a pie plate).
Combine olive oil, red wine vinegar, lemon juice, garlic, salt, oregano, and pepper.
Pour over tomatoe and onion slices.
Chill thoroughly at least 2 hours, gently stirring once or twice.