Brenda.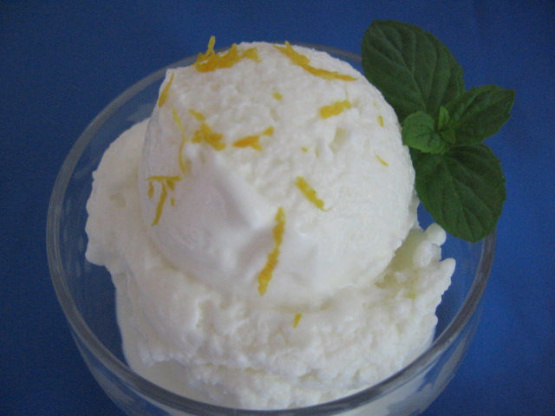 This dessert is adapted from the Perfect Greek collection of 100 essential recipes. It's so easy to throw together in the ice cream freezer and has a wonderful creamy mouthfeel and summer fresh tart taste. The whole family loved it. Note: times indicated are for prep time only and do not consider the freezing time, as it varies, depending on method used.
This has ice cream (frozen yogurt really) has a nice refreshing tang, I think it would be really great with a berry sauce. It also has a little of that dryness on the tongue that froyo can have which I'm not really fond of. I started with vanilla Greek yogurt so cut out almost all the sugar and increased the amount of lemon juice. After reading the other comments, I scooped it into my freezer container with little scoops in hope that it will make it easier to remove, they are definitely rock hard, but I've had this happen with other ice creams so not too concerned. Thanks for sharing your recipe Nan! Made for ZWT9 Greece by another one of The Appliance Killers
Mix the ingredients and pour into a the container of an ice cream maker. Follow manufacturer recommendations for freezing. Place in into freezer and allow to rest at least 2 hours before serving.
Alternately, pour the mixture into a shallow freezer container and freeze, uncovered, for 1 - 2 hours, or until the mixture begins to set around the edges. Turn the mixture into a bowl and, with a fork, stir until smooth. Return to the freezer container, cover, and freeze for another 2 - 3 hours, until firm.