Greek Lemon Chicken Drumsticks With Peppers
lazyme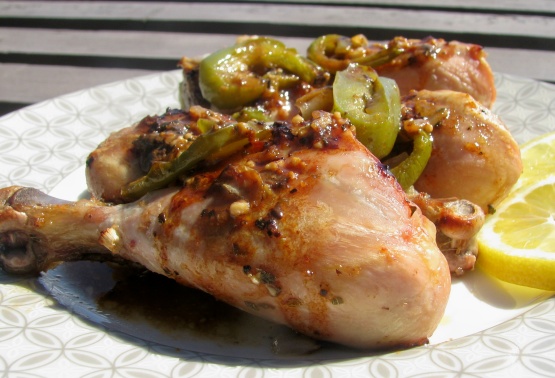 This recipes comes from "Quick and Easy Low-Carb Cooking" by Nancy Hughes. It is easy to prepare and economical. Low in carbs it is perfect for those watching their carb intake. I used lemon pepper to reduce the sodium; however, you can use salt and pepper if preferred.

What an exceptional recipe! I made this last night for the BF and I, and it was like a gourmet dinner at a restaurant! I used a red bell pepper instead of green, and added an extra lemon because was too lazy to get the zest, used 2 tsps of oregano, and instead of lemon pepper used black pepper. YUMMY! I only wished I would have added more bell peppers because we love our veggies. Served this with steamed veggies and Jasmine rice. Excellent. Thanks for posting.
Preheat oven to 350 degrees F.
In a 9x13-inch baking pan, combine chicken, bell pepper, onion, and garlic; squeeze the juice of one lemon evenly over chicken and vegetables.
Mix together 1 teaspoon lemon zest, oregano, lemon pepper and paprika.
Lightly coat all with cooking spray and bake, uncovered, for 30 minutes.
Turn chicken and cook 30-40 minutes longer.
or until chicken is no longer pink in center.
When chicken is done, place on serving platter; add juice of the remaining lemon to vegetables and pan drippings.
Stir to blend, scraping bottom and sides of pan; spoon mixture over chicken and serve.