Prep 15 mins
Cook 45 mins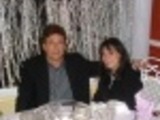 This has real fresh, tangy flavor. If you don't have Greek seasoning on hand, just add a mix of dried organo, onion powder, and garlic powder.
Directions
Preheat oven to 400 degrees.
Cut 2 lemons into 12 slices; sprinkle with 1 t. seasoning. With fingers, loosen skin from chicken breasts. Arrange 3 lemon slices under skin of each breast; smooth skin over lemons. Place in large roasting pan.
Cut remaining lemons into edges. Place lemon wedges and onion around chicken. Sprinkle with salt, pepper and remaining seasoning; add olives.
Roast until juices run clear when chicken is pierced with fork, about 45 minutes. Transfer to serving platter. Drizzle with pan juices. Let stand 10 minutes.
Just before serving, sprinkle with mint. Garnish with mint sprigs.
Most Helpful
I had two whole chicken breast that just happened to be attached to the test of the chicken, so I made this as a roast dinner. So slide the lemon slices under the breast and put a lemon in the chicken cavity. Scattered the onions and olives around the whole bird. The result was a sensational dish served with baked potatoes, corn on the cob and salad. Oh, and I used a homemade Greek seasoning from Annacia

Made this delicious chicken dish tonight for dinner. Loved the lemon and greek seasoning under the skin, as well as, the additional lemons and onions. I used chicken thighs and they were really moist and tender.

This surely was Mediterranean; bright, clean, and a super tasty chicken dish. Love how the lemons and olives meld with the rest of the ingredients and balance out the dish. I used all as suggested, except that I used drumsticks as I already had them in the freezer. I also used Cavenders all-purpose Greek seasoning and in addition I also added the no salt Cavenders Greek seasoning to add more flavor without it becoming salty. It came out perfect! This one will have repeats. Thank you Jackie for a lovely dinner. Made it for CQ3.