Prep 15 mins
Cook 45 mins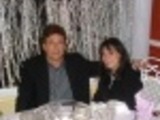 This has real fresh, tangy flavor. If you don't have Greek seasoning on hand, just add a mix of dried organo, onion powder, and garlic powder.
Directions
Preheat oven to 400 degrees.
Cut 2 lemons into 12 slices; sprinkle with 1 t. seasoning. With fingers, loosen skin from chicken breasts. Arrange 3 lemon slices under skin of each breast; smooth skin over lemons. Place in large roasting pan.
Cut remaining lemons into edges. Place lemon wedges and onion around chicken. Sprinkle with salt, pepper and remaining seasoning; add olives.
Roast until juices run clear when chicken is pierced with fork, about 45 minutes. Transfer to serving platter. Drizzle with pan juices. Let stand 10 minutes.
Just before serving, sprinkle with mint. Garnish with mint sprigs.
Reviews
Most Helpful
I loved this, and loved the smell of the olives while the chicken cooked. DS said the lemon was too overpowering, but I didn't find it so. (He ate two chicken breasts though, so it couldn't have been bad. LOL) My chicken breasts were huge, two of them weighed 2 1/2 lbs, so I adjusted the recipe accordingly...Made for Zaar Cookbook Tag game. Thanks for sharing!

Gotta love that Greek Seasoning. It adds so much flavor to anything you sprinkle it on. We loved this chicken and we can't wait to have it again. I baked potatoes with oil, lemon, Greek Seasoning, sea salt and fresh cracked pepper in the oven and a Greek salad on the side. Great meal!
Simple to make and has lots of flavor. Goes great with Greek potatoes and green salad. Made for ZWT6