Greek Layered Dip With Pita Crisps
Leslie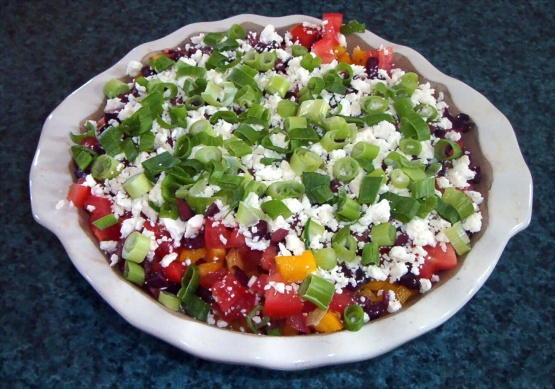 This is a delicious dip with a lovely flavour and presentation. You may add chopped peeled cucumber if you wish. If you are taking this to a party, layer the ingredients on a decorative plastic plate or tray from a party store - no risk of breaking your favorite serving plate! Prep time does not reflect the overnight time needed to make the yoghurt cheese so plan ahead!
Very tasty!The blend of flavors is so dynamic. You will do best to follow the recipe exactly. I tried Greek yogurt cream cheese and was really disappointed; I could tell after I made it that it would have been killer with strained yogurt. I will try this with heirloom tomatoes when they come into season. This is a little nitpicking, but I had trouble converting the ingredients list, as I don't have a food scale. Also, it definitely took longer than 30 minutes! Well worth it, though. I will make this again for sure when I have someone to impress.
The day before you want to serve the dip, take your yoghurt and put it into a mesh strainer you have lined with 3 or 4 coffee filters. (you may also line it with damp cheese cloth) Set the strainer in the sink and allow it to drain overnight. The whey will drip out of the yogurt, leaving a smooth, creamy cheese similar in texture to cream cheese or neufchatel. Stir in the red onion and minced chives and set aside.(Alternatively you can use 1 8-oz container of chives and onion cream cheese spread).
Put the chickpeas, garlic, tahini, olive oil and lemon in a food processor. Process until almost smooth (You may need a few extra TBS of water or lemon juice to loosen it) Season to taste with salt and freshly ground black pepper.
Heat oven to 350*F. Carefully split each pita bread into 2 rounds. Cut each round into 6 wedges; brush with olive oil and place on ungreased cookie sheets. Sprinkle with garlic powder.
Bake 5 to 7 minutes or until crisp and golden brown. Cool while making dip.
In a 10 inch pie pan, spread the yoghurt cheese mixture. Drop small spoonfuls of chickpea mixture even over, spreading evenly. Top with remaining ingredients in order listed.
Serve with pita crisps.
Note: to make ahead, dip can be refrigerated up to 2 hours.