Pixie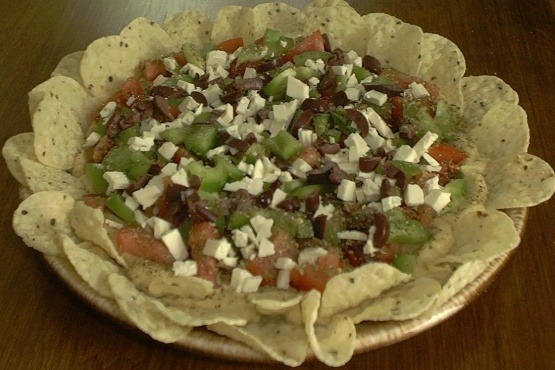 Get out the tortilla chips or pita triangles, it's the Greek version of a Mexican layer dip! Plus, no need to turn on the oven. The cook time listed is time to chill before serving.

We loved it! Better than Mexican layer dip, its so much lighter! My quests devoured it. I made a few changes and that is solely based on personal taste, the intent of the original recipe is perfect. That said, I used a 15 oz can of chickpeas-no salt added (I couldn't find 19 oz, and I like to control the salt). I processed the chickpeas, whole milk yogurt and garlic and pour it into a round ceramic pie plate, then covered and chilled for a few hours. After chilling, I tasted it and then sprinkled some sea salt, garlic-pepper blend seasoning, and some dried oregano right on top of the puree and didn't stir it, just let it sit on top (don't know if it makes a difference or not, I just didn't feel like stirring it in). I used one Roma tomato and removed the seeds. My grocery store didn't have plain feta so I had to buy herb-tomato feta cheese, which turned out to be pretty good. The olives and green pepper are a must have, it just makes the dish. Also, I thinly sliced one scallion (both white and green parts, the other reviewer mention onions and her husband was right but don't over do) that I placed on top last with some freshly grounded black pepper. I took it out of the fridge 30 minutes before serving--I don't like anything too cold, except for beer and ice cream of course. I served this with tortilla chips but next time (there will definitely be many next times) I will try toasted pita triangles. Yes, lining the dish with the chips (I did 3 rows--after I layered the ingredients) makes a lovely presentation. Great recipe, thanks Pixie!
Place the yogurt, chickpeas and garlic in the bowl of a food processor or blender and process until completely smooth and creamy.
Spread the mixture in a large flat circle on a dinner plate or serving dish.
Sprinkle the tomatoes and green pepper evenly over the top of the mixture.
Sprinkle with black pepper and oregano and top with the feta cheese and olives.
Refrigerate for 30 minutes to allow the flavors to mingle.
Serve with plenty of tortilla chips, toasted pita triangles or crackers.