kolibri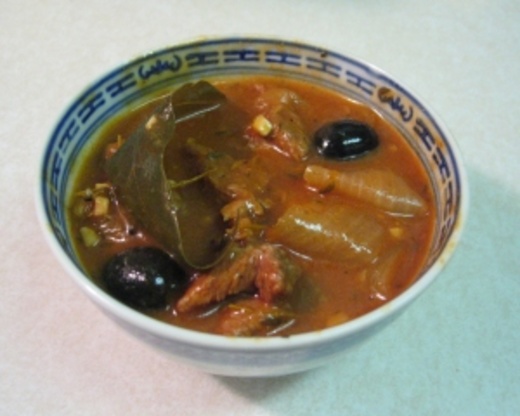 This is one of those stews that's perfect for a cold night in. Normally lamb stews are done with red wine, but this one uses white - works very well, too. The wine was semi sweet Reisling so the stew has a very slight sweet taste too.
Season flour with salt and pepper and roll lamb cubes in it.
Heat oil in a pan over medium high heat, brown lamb cubes in oil.
Sprinkle herbs and garlic over lamb and add roughly chopped onion, stock, wine, and tomato sauce.
Season with additional salt and pepper to taste.
Simmer over medium heat for 1-1/2 hours, stir now and again - it has a tendency to stick (although not burn).
Add olives, simmer for half an hour more.
Serve with rice, potatoes, salad, bread, whatever you like. And rest of the wine bottle, of course.