Greek Lamb Shanks (Slow Cooker)
Dawn F.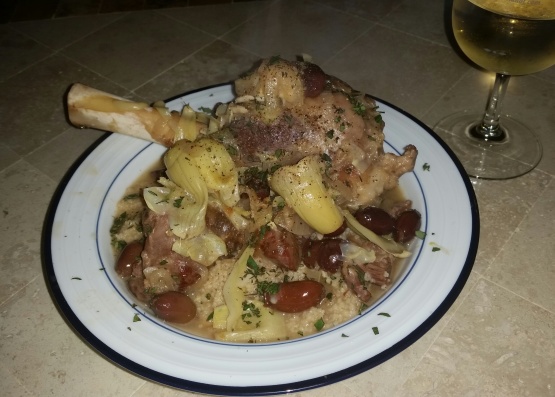 Clipped from a magazine by my dd. I have no idea which one but this looks delicious.

this was easy and delicious and we loved it. a new keeper for sure. the olives and artichokes put it over the edge/
Place lamb and flour in large plastic bag and shake to coat.
Heat oil in pan and add lamb in batches and cook until browned.
Heat remaining oil and cook onions and garlic stirring until onions are soft.
Combine wine, stock, rind artichokes and olives in a large jug.
Place lamb in slow cooker pot and pour liquid mixture over lamb.
Cover pot with lid.
Cook on high setting for 4 hours or low setting for 8 hours.
Stir in oregano and salt and pepper just prior to serving. Taste and adjust seasoning if required.