WiGal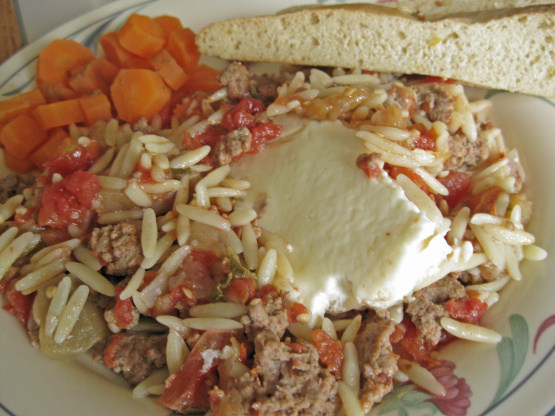 This was printed in our local paper several months ago. It is also one of those I clipped to make and then misplaced. It sounds so wonderful. I know if I post it, I want loose it.

Top Review by WiGal
Euyeuoto! Delicious!! Seasonings are right on. I used ground lamb instead of shoulder meat. Really can't tell that the eggplant is there. Next time would drain the canned tomatoes first. This is huge so froze rest. I would probably omit the yogurt topping next time or sprinkle on a bit of cheese. Served with carrots sprinkled with cinnamon, recipe#428681, and for dessert recipe#173165. Thank you Paula for sharing. Made for the Unrulies Under the Influence during ZWT6.
Heat the oil in a nonstick skillet over medium heat.
Add the onion and garlic; cook stirring frequently until onion is soft, about 5 minutes.
Add the eggplant and water; cook stirring frequently until eggplant is tender, about 5 minutes.
Add the cubed lamb and cook until longer pink, about 3 minutes.
Stir in the tomatoes, 1/2 cup of mint, 1/2 cup of dill, salt and bring to a boil.
Reduce heat to simmer, cover and cook 20 minutes or until lamb is tender.
While the lamb mixture is cooking, cook orzo according to package directions, drain.
Preheat oven to 350 degrees.
In a small bowl, combine the yogurt, flour and egg whites.
Stir the drained orzo into lamb mixture, spoon mixture into an 11 x 7 inch baking dish.
Cover and bake 10 minutes; uncover spoon yogurt mixture on top, return to oven and bake until casserole is bubbly, about 20 minutes.
Sprinkle with remaining 1/4 cup mint and 1/4 cup dill on top of dish and serve.