Greek Keftethes Covered in Tomato Sauce
David04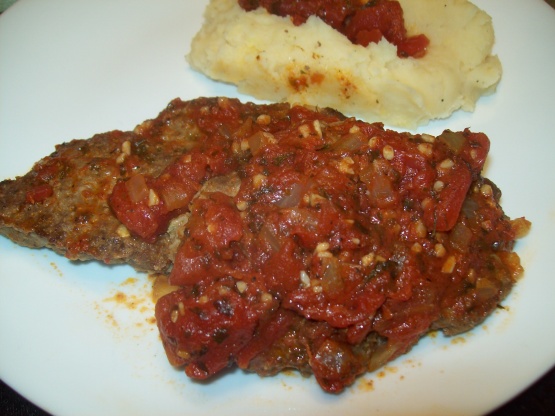 Greek Meat Patties. You can cut out even more fat and calories by replacing the lamb with all extra lean ground beef.
1

lb ground lamb

1

lb extra lean ground beef

1

Spanish onion, finely chopped, divided

4

ounces oatmeal, uncooked plain

2

large eggs, beaten

8

mint leaves, finely chopped

8

sprigs parsley, finely chopped
1⁄2 teaspoon oregano
1⁄4 teaspoon ground cinnamon
1⁄4 teaspoon ground ginger
1⁄2 teaspoon cayenne pepper, divided
1 3⁄4 lbs tomatoes, canned peeled coarsely chopped

6

teaspoons garlic cloves, finely chopped

4

tablespoons olive oil
1⁄4 teaspoon paprika, ground
Place Tomatoes, 1/2 Spanish Onion, 2 tbsp Parsley, Garlic Cloves, Olive Oil, 1/4 tsp Paprika, and 1/4 tsp Cayenne in a large saucepan.
Add 10 oz water and simmer gently, uncovered, for 1 hour.
In a large mixing bowl, combine ground meat , 1/2 of a finely chopped Spanish Onion, Oatmeal, Eggs, Mint leaves, Parsley, 1/4 tsp Cayenne pepper, Ginger, Cinnamon, and Oregano.
Season to taste with salt.
Mix well.
Form the mixture into 12 oblong patties.
Heat olive oil in a large frying-pan, add a batch of patties and fry until golden.
Drain on paper towels.
Continue frying the patties until all are cooked.
Place patties on an oven safe pan, pour the tomato sauce over the patties.
Place in the over at 375F for 3-5 minutes.
Plate and serve.