Greek Halva (A Semolina Pudding)
Annacia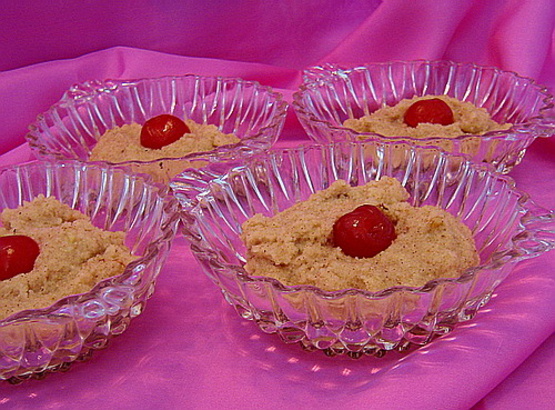 This is another recipe for halva, my mum's recipe. It's one of the most common desserts in Greece and perfect for a lent. You can add in it raisins, almonds, pecan, pine nuts, its up to you!

Top Review by Jani04
Good recipe. Though be warned this took me longer than 30 minutes. Almost 45. I thought it would be quick and easy but didn't realise I'd have to stand there stirring for so long. It took quite some time for the semolina to thicken and I admit I didn't wait until it started pulling away from the pot completely. Otherwise a good dish.
Brown the semolina in the oil on medium - high heat stirring continuously for 3 minutes.
Add the sugar, the nuts (if using) and continue stirring for another 4 minutes.
When the semolina has taken a brown colour add the hot water. (Be careful, there are bubbles and steam!)
Turn the heat down and continue stirring until the mixture is very thick and its pulls away from the sides of the pan as stirring.
Spoon into a bundt pan, on in small bowls and unmol onto a platter on onto individuals plates.
Sprinkle with more nuts and cinnamon.