PaulaG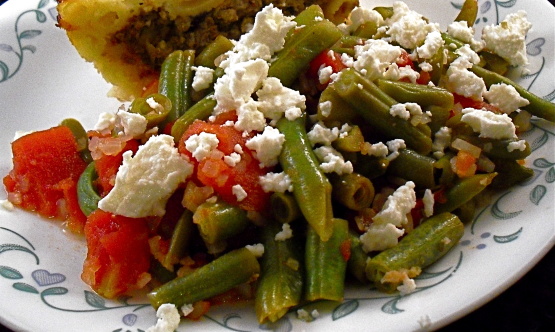 Thanks to LonghornMoma I'm posting this for all to try. A super easy & yummy way to make green beans. A twist on my Greek spinach. Hope you all enjoy! Can be made ahead. Serves 4 of us (but we like it a lot, lol) more like 6-8. Easily doubled. Time is a guess--start to finish is maybe 20-25 minutes.

I have to admit, I didn't expect these to be as good as they are! They are so quick and easy to make. I used frozen green beans and chopped red onion. I loved them. Made for TYM Tag. Thanks for the great recipe.
Cook your green beans fresh or frozen. If using canned skip this.
Heat the olive oil in a sauce pan, add the onions.
Cook until soft about 5 minutes on low.
Add everything but feta. If using canned green beans add now.
Simmer on low until hot.
Add feta.
I've done this in the oven in a casserole dish, and in a foil packet on the grill. You're basically just heating everything through.