loof751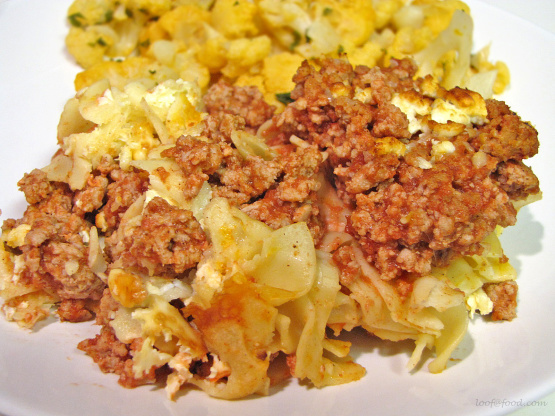 I found this in my Taste of Home: Best Ever Casseroles book that I received from the 2010 Cookbook Swap. Posting for ZWT6 Greece.

Top Review by WiGal
Love casseroles on a crisp sunny fall day and this made our day perfect! Nice gooey cheese-yum! I seasoned the pork with 1/4 teaspoon pepper and 1 minced garlic. I used a marinara sauce with 1/4 teaspoon of cinnamon which we LOVED so don't wimp out on that. Made in a 1 1/2 quart casserole. The key ingredient is your choice of tomato sauce. Thank you AZPARZYCH for another great casserole.
Preheat oven to 375 degrees F.
Cook macaroni according to package directions.
In a bowl, combine the egg, milk and 1/4 cup cheese; stir in macaroni.
Transfer to a greased 3-cup baking dish.
In a skillet, cook pork and onions over medium heat until meat is no longer pink; drain.
Stir in tomato sauce and cinnamon.
Pour over macaroni mixture; sprinkle with remaining cheese.
Cover and bake for 20 minutes.
Uncover and bake 12-16 minutes longer or until bubbly and heated through.