Greek Feta Burgers (Light)
Bergy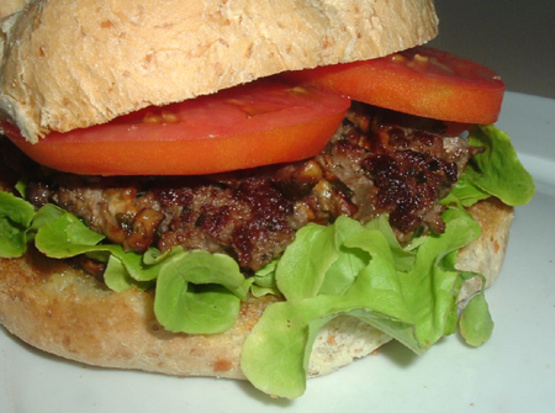 We loved these, and loved the fact that they were baked, so I'll certainly be making them again. A great blend of flavours. And very clear instructions. Naughtily, I used regular Greek feta not reduced-fat feta as I find that so many low-fat, non-fat, reduced-fat cheeses are so horribly bland that I'd have been better off not including them at all! So the feta in these - combined with the other great flavours - tasted just wonderful! I made six slightly smaller burgers. Thanks for sharing this recipe, Redsie! The only major change I'll make next time will be to double the recipe, so that there are some for the freezer.
Preheat grill or grill pan. Spray with cooking spray.
In a nonstick frying pan sprayed with cooking spray, cook mushrooms and onions over medium-high heat for 4 minutes, or until softened and browned. Remove from heat. Stir in feta.
In a bowl, stir together beef, chives, oregano, barbecue sauce, breadcrumbs, garlic, and egg. Stir in onion mixture. Form into 5 patties.
Grill patties over medium-high heat for 3 to 5 minutes per side, or until cooked through. Patties can also be placed on a baking sheet sprayed with cooking spray and baked in centre of preheated 450°F/230°C oven for 10 to 15 minutes, or until cooked through, turning once.