rosie316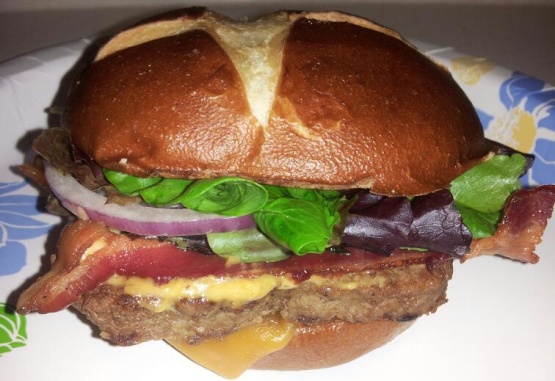 A nice alternative to ground lamb, which can be very expensive. Serve with cucumber sauce, Cucumber Sauce I found this recipe online and haven't had a chance to try it yet.

I made these tonight for hubby & I. Wonderful flavor! I have to say upfront, I'm not a big fan of Feta... but being mixed into the burger it brought out a new flavor for hamburgers. I did not have fresh parsley, so I used 1/2 teaspoon of dried. I also used pre-packaged salad mix containing spinach. Stupid me... before even tasting it, we melted some cheddar slices on them (sorry, force of habit)... next time I will not :) I toasted some pretzel buns on the flame of my stovetop (pretzel buns are cheap at Aldi's), and added some pre-cooked bacon (Oscar Mayer) to them. (I did not make the Recipe #492963... but maybe next time. I just used my mustard & mayo dressing). This turned out to be one of the best pan-fried burgers I've had (I normally pan fry or oven bake, and hubby does the grill). Thanks for a new take on a burger. (Made for ZWT9)
Prepare Recipe #492963 set aside. In a medium bowl, combine ground beef, cheese, parsley, garlic, and pepper. Shape mixture into two 1/2-inch-thick patties.
In a large nonstick skillet, cook patties over medium-high heat for 4 minutes per side or until desired doneness. I like mine medium to medium rare. Your choice, of course. Line cut sides of bun halves with spinach. Top with burgers, tomato slices, and sauce. If desired, garnish with red onion.