Greek Feta and Olive Meatballs
JustJanS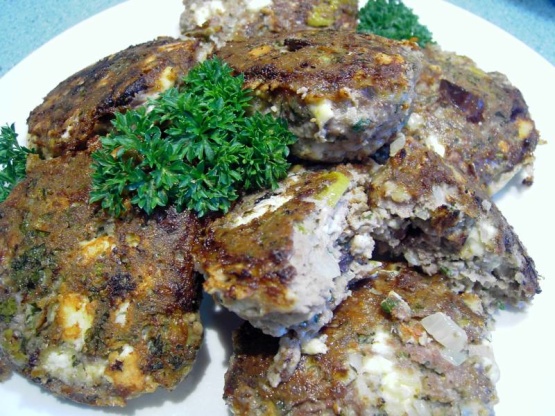 This quick and easy recipe--prepares in less than 10 minutes and cooks in about 5--is so full of flavor. Ground lamb, feta, green olives and fresh herbs make a culinary explosion in you month. Place them on top jasmine rice.

I cooked this for my family the other night - however i used beef mince i had in the freezer and all black olives - i also made a tomato sauce to have on top and served with a fresh salad - everyone loved them and there was even enough for cold leftovers the next day!
Preheat oven's broiler.
Mix all the ingredients in large bowl.
Shape into medium sized meatballs--no bigger then a golf ball.
Place the meatballs two inches apart on a baking sheet.
Broil about 3 inches away from heat until they are golden brown on the top, about 3 to 4 minutes depending on the size of the meatball.
Turn the ball over and broil the other side.
Best served on Mediterranean jasmine rice or with cheese crackers and wine, a nice merlot.