Greek Family Style Shepherd's Pie
wjorma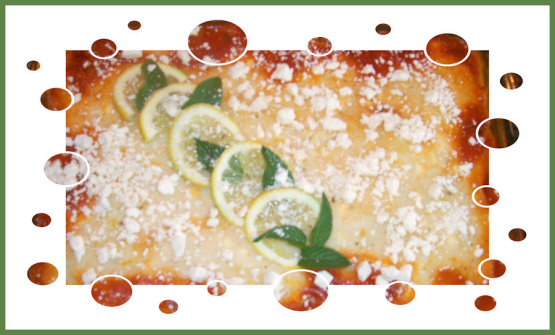 A well traveled family friend gave us this recipe and we have always loved making this comfort food. A small fresh salad and fresh fruit in season usually goes with the pie. You could also use ground chicken or turkey instead of beef. If you are unable to find tomato sauce with roasted pepper just use 24 oz tomato sauce and 1/2 cup chopped marinated sweet red pepper.

As a huge fan of Greek foods and flavors, I loved this! I used a 50/50 blend of ground beef and lamb, used my own Greek seasoning, Recipe #488671, and added a little nutmeg. Thanks for sharing your great original recipe!
Cook ground beef in a large nonstick skillet, stirring until beef is no longer pink; drain & discard grease.
Cook zucchini, onion, and garlic in skillet, stirring occasionally, until vegetables are tender.
Add ground beef; stir in pasta sauce and 3 teaspoons Greek seasoning. Cook over low heat until thoroughly heated.
Pour beef mixture into a lightly greased 3-quart round baking dish.
Stir together mashed potatoes, remaining 1/2 teaspoon Greek seasoning, crumbled feta cheese, lemon rind, and lemon juice. Spoon potato mixture evenly over beef mixture.
Bake at 375 for 30 minutes.
serves 8.