Greek Egg-Lemon Soup for the Microwave
Prep 10 mins
Cook 16 mins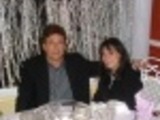 Use your microwave to make this quick, tasty soup.
4 cups de-fatted chicken broth
1⁄2 cup long-grain rice, well rinsed, drained
2 large egg yolks
1 lemon, juice of
salt & freshly ground black pepper
2 tablespoons minced of fresh mint
Directions
Place broth and rice in 2-quart microwave-safe casserole. Cover tightly and microwave on High until rice is cooked, about 15 minutes.
Whisk egg yolks and lemon juice in medium bowl until blended. Gradually whisk 1 cup hot broth from casserole into egg mixture, then return to casserole and stir to blend. Microwave covered on High until heated through, 1 minute. Season with salt and pepper.
Ladle soup into serving bowls. Garnish with mint and lemon slices; serve hot.
Most Helpful
Made this soup today to fortify me during an afternoon of cooking :). I used home made chicken broth and leftover brown rice (it had a few peppers in it but waste not want not and even quicker :) ). I love it ! Very tasty, love the tang of the lemon in there and just a nice rainy day lunch. Thanks so much for posting, JackieOhNo! Made during ZWT#9 for my team, Tasty Testers :)
What a nice soup. I skipped step one as I was making fresh chicken broth and had made rice, so I was able to skip to the next step. I used 3 cups broth and a cup of cooked rice, and just one egg yolk. This was the perfect amount for us - we like our soup!

I have never tried Avgolemono before and I was sold on an easy way to make it. It was fantastic. So easy and tasty. Thank you!