Greek Death by Garlic Pasta
Mike B.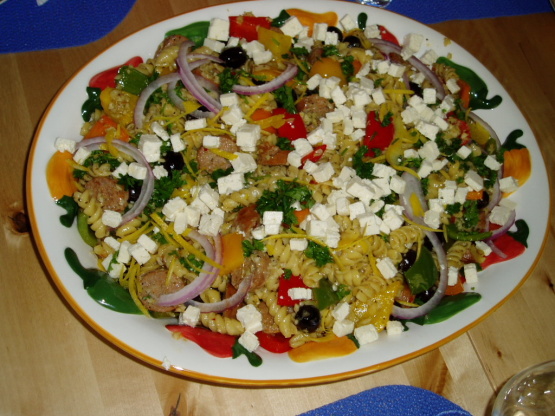 An Explosion of Garlic and Peppers, with a Greek Flair.

Top Review by Suzzi
I had to join in just to rant about this great recipe. I saw it recently and had to come back to say how easy this was to make. The taste is out of this world. Definitely a keeper !
1⁄2 cup extra virgin olive oil

10 -20

cloves garlic, minced
1⁄4 teaspoon salt
1⁄2 teaspoon red pepper flakes (whole) or 1⁄2 teaspoon hot pepper (whole)

3

tablespoons fresh parsley

3

cups penne pasta or 3 cups rotini pasta
1⁄4-1⁄3 cup romano cheese or 1⁄4-1⁄3 cup parmesan cheese

1 -2

tablespoon Club House Greek seasoning

1

red pepper, cut in 1 inch cubes

1

green pepper, cut in 1 inch cubes

1

yellow pepper, cut in 1 inch cubes

1

can 375ml black olives, Sliced or Whole,drained

1

red onion, sliced thinly

1

(250 g) package feta cheese, cut and crumbled

1

tablespoon fresh lemon zest

1

lemon, juice of

6

hot Italian sausages or 6 chorizo sausage, cooked and sliced into 1/2 slices
Cook pasta according to pkg directions.
While pasta is cooking, in a stir fry pan, Saute garlic and Peppers, in oil.
Add Sausages,Olives and Greek seasoning to warm through.
Toss hot pasta with garlic mixture, add salt
Garnish with cheeses, lemon zest ,lemon juice, onion, pepper flakes and parsley.
Serve immediately in a pre-warmed serving dish.