KristinV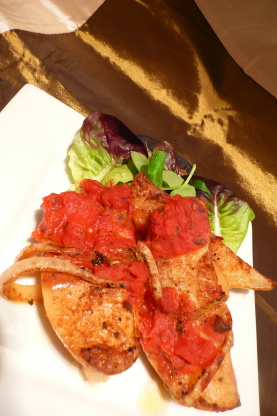 This is taken from Tonia Buxton, a Greek / English presenter who travelled around the Greek islands presenting "My Greek Kitchen". This is a recipe that she apparently got from Crete, its very easy and tasty and great served with her recipe for Oregano and Cinnamon Roast Chicken (which I've also posted) and salad. PLEASE NOTE THESE ARE NOT ROAST POTATOES!

We really liked these, though mine did not really come out roasted. The flavor was quite nice though ~ will definitely make them again. Really liked the mix of cumin and cinnamon and the onions added just they right touch. Thanks for posting ~ made for ZWT6 - GREECE and the Queens of Quisine!
Peel potaotes and cut in half, or if very large, quarters.
Place in roasting dish, separate onion slices and mix with potatoes.
Sprinkle the spices and seasoning over the potatoes and onion and drizzle with olive oil; mix well.
Pour tinned tomatoes over the potatoes.
Add water to the pan.
Cover and cook for 45 minutes at 200°C.
Remove foil, lower oven to 180C and cook for a further 30 minutes or so until cooked.