Greek Cornbread With Cheese - Bobota Me Tyri
A rustic country cornbread. This is a savory version. Sweet versions have a syrup poured over them.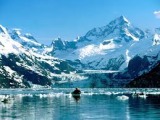 I was surprised at how easily this recipe came together. The corn bread had a great consistency. I wasn't crazy about the taste but my daughter really enjoyed it. She said it tasted like an asiago bagel. :) Thanks for this unique recipe! ~Made for Zee Zesties during the ZWT6~
Preheat the oven to 350°F
Traditionally, this is baked in a 12" round pan. You may use a 9"x13" pan.
Grease the sides and bottom of the pan and set aside.
Combine the wet ingredients (yogurt, Kasseri cheese, Kefalotyri cheese, oil, eggs, and lemon juice).
In another bowl, sift together the cornmeal with the flour, baking soda, baking powder, sugar, and salt.
Add the wet ingredients to the dry and mix until it is a soft, batter-like dough.
Spread the batter in the pan and smooth with the spatula.
Sprinkle with the Feta cheese and scatter the pieces of butter evenly over the top of the batter.
Bake for 40 minutes, or until it is a deep golden brown. If it gets too brown before the 40 minutes are up, cover with aluminum foil and continue baking.
Allow to cool 15 minutes before serving.