rpgaymer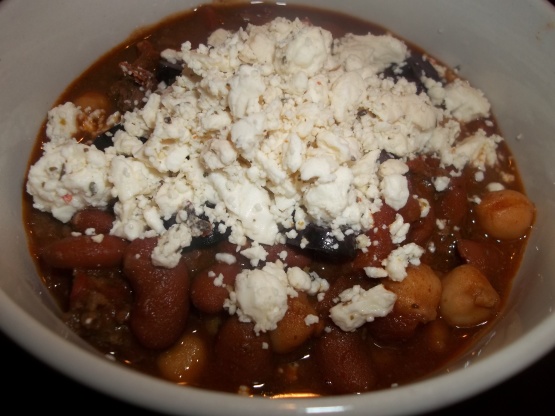 I'm really not sure where I got this recipe--from some "bean" website, I think. It's really very tasty. I don't use the olives, but the feta cheese is a must.
I love a good chili, and this one's a real keeper. The honey, cocoa and oregano in the sauce makes it taste completely unique- I love it. I also added two chopped serrano peppers because I just can't make a chili without it being devilishly hot. The feta and olives were also the perfect finish. I actually left out the noodles completely though, and just served the chili with pita chips like one would serve a traditional chili with crackers.
Saute ground beef, onion and garlic in a large saucepan until beef is browned (about 5 minutes). Add the spices, herbs and cocoa and cook about 1-2 more minutes.
Stir in tomatoes, beans and honey. Heat to boiling, then reduce heat and simmer, covered for about 15 minutes. Uncover and simmer another 10 minutes.
Spoon chili over pasta. Garnish with feta cheese and olives.