Greek Chicken Stew With Cinnamon Couscous
Annacia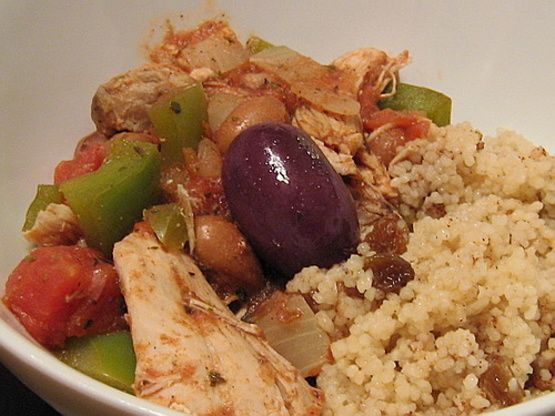 I was hesitant about trying this recipe since I'm not a fan of raisins or garbanzo beans. I'm glad I did because it is very tasty! From Sara's Secrets on the Food Network.

Whatever you do, do not skip this couscous. It is absolutely delicious and I would be happy to have it by it's self. I did use much less than ask for though, 1/2 a cup of couscous and a very light 1 cup of broth. The serving sizes are more than generous. I made a 2 serving size and have enough for 4! I discovered at the last min that I was out of garbanzo beans and used Romano beans in their place and they worked fine for a stand in. I cooked and shredded two thighs and used that for the chicken. I at least doubled the cinnamon in the couscous and added 4 or 5 good heavy shakes (from a shaker container) to the stew as well. All in all this is a very enjoyable meal that I will certainly make again.
Greek Chicken Stew

3

tablespoons extra virgin olive oil

1

large onion, chopped

1

large green bell pepper, chopped

1

tablespoon garlic, minced

4

teaspoons all purpose Greek seasoning, crumbled between the fingers

1

(28 ounce) can crushed tomatoes, in puree

1

(15 ounce) can garbanzo beans, rinsed and drained

1

cup chicken broth

1

teaspoon pepper

1

oven-roasted deli chicken, cut into serving pieces
1⁄2 cup kalamata olive, pitted and coarsely chopped

1

tablespoon lemon juice, freshly squeezed

Cinnamon Couscous

2

cups chicken broth

1

tablespoon extra virgin olive oil
1⁄2 teaspoon salt

1

(10 ounce) box couscous, plain
1⁄4 cup raisins

1

teaspoon cinnamon

1

tablespoon orange juice
To make the stew:.
Heat the oil in a large stockpot over medium-high heat. Add the onion and bell pepper and cook, stirring frequently, until they begin to soften, about 4 minutes.
Add the garlic and Greek seasoning and cook for 1 minute, stirring constantly.
Add the tomatoes, garbanzo beans, broth, bay leaves and pepper. Stir well. Bring to a boil and boil for 5 minutes, stirring frequently.
Add the chicken, lower the heat to medium, and simmer, uncovered, for 15 minutes. Stir frequently to prevent sticking. (The mixture will thicken.).
Remove the bay leaves and discard. Stir in the olives and lemon juice and serve immediately over the couscous.
To make the couscous:.
While the stew is simmering, bring the broth, olive oil and salt to a boil in a medium saucepan over medium-high heat. Stir in the couscous and raisins, cover, and remove the pan from heat.
When the moisture has been absorbed, about 5 minutes, sprinkle the cinnamon and orange juice over the couscous. Fluff with a fork to combine the flavors and loosen the couscous. Do not stir.