gemini08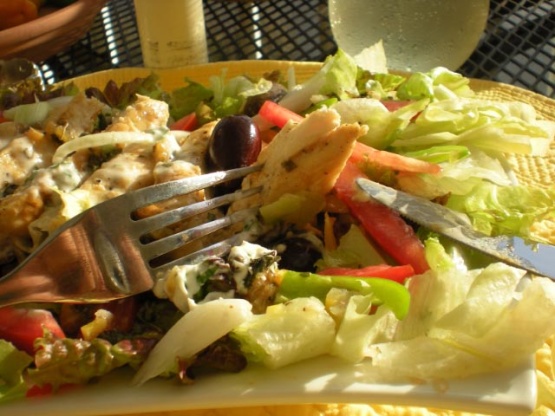 Greek chicken salad -- I love Feta cheese and this is a nice low fat meal.

This was indeed a lovely, lowfat salad! The marinade was delicious! I did not see any salad dressing mentioned so I doubled the marinade and used half of it as dressing, really nice! Also, there are no tomatoes in the write up; I have never seen a greek salad without tomatoes so I did add some. The flavors where lovely and deserve 5 stars but it seemed that the write up was incomplete. Made and reviewed for PAC Fall 2012.
Combine oil, lemon peel, juice, garlic, oregano, and pepper. Pour marinade over chicken and cover well.
Place in a sealed container and refrigerate overnight.
Spray nonstick cooking pan with nonstick cooking spray.
Cook chicken until no longer pink inside.
Arrange lettuce in salad bowls and combine with olives, feta cheese, and onion.
Serve with chicken on top.