BarbryT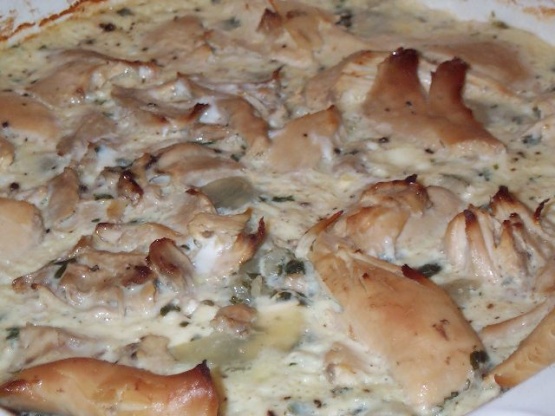 This is a traditional recipe for chicken from alpine central Greece. Its a usual Sunday dish in those places! It can be made with all shorts of chicken (deboned, fillets...) or turkey!

I can't believe that I forgot to rate this! I made it for the first time months ago, and am about to make it again. It is SO good! I used boneless, skinless chicken breasts, and added some cloves of garlic. Like some others suggested, I used a bit more rice, and it came out simply wonderful. Make sure to use a good quality feta cheese, as the flavor will make all the difference. Thanks for a great recipe, katia!!
Put enough water in a pot and boil the chicken pieces with the onions unchopped. Boil until chicken is tender. Take off the chicken and the onions and reserve the broth for later use in the recipe.
Place in a casserole dish the onions cut them in large pieces. Then add feta crumbs,the parsley and the rice. Mix well.
Put on top the chicken and 1.5 cup of chicken broth. Add the butter.
Bake for 45 minutes at 200°C - (350F).
Mix the eggs with the remaining chicken broth and add them to the casserole.
Bake for 30 minutes more at the same temperature.