Greek Chicken Pita Pockets - Crock Pot!
Demandy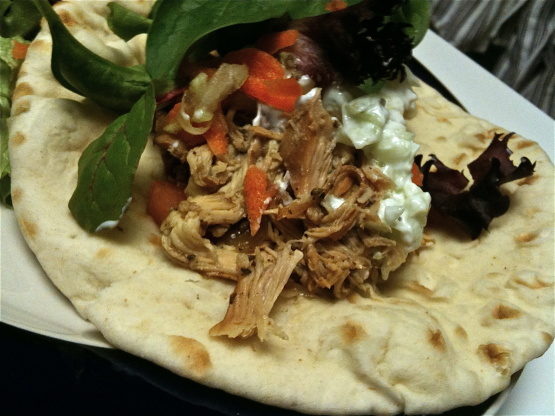 I have been making a lot of greek food lately, and was looking for a hot sandwich filling I could use. I found this on another site, and it looks very tasty. I haven't tried it yet, but putting it on zaar for safe-keeping.

Yum yum! Simple and delicious. I served this with a variety of veggies, wrapped in giant pitas and lots of Greek Garlic Sauce (199091) and it made for a great dinner! Thanks!
Place chicken in greased crock pot.
Top the chicken with onions, lemon pepper and oregano.
Cook on low for 6-8 hours.
10 minutes before serving, remove the chicken and shred it with two forks.
It should just fall apart.
Put the shredded meat back into the pot.
Stir in the yogurt.
To make the sandwich, split open your pita bread and spoon the chicken inside.
This would be wonderful with some sliced tomatoes and cucumbers and some hummus on the side.
Enjoy!