Greek Chicken and Feta Phyllo Bundles
Satyne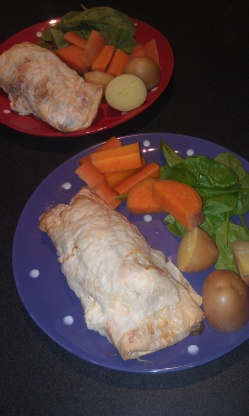 This is not hard to make, if you are a phyllo lover, then this is one recipe you will have to try! Plan ahead the chicken needs to marinate for 12-24 hours.

Top Review by Satyne
I thought this would be tasty. I had my first inkling of HOW tasty when it was finished cooking and smelling wonderful. All ideas were confirmed when I took a bite. Delicious. Very easy to prepare. I only cooked 2 of 4 breasts and have rolled them up prepared and frozen them for another time. Hopefully they'll heat up nicely. Thanks for a great dinner and sorry it's not a better photo.
Set oven to 350°F.
Slice the chicken breasts in half lengthwise almost in half to create a pocket.
Place in a large glass baking dish.
In a bowl whisk together white wine, olive oil, garlic, bay leaves, oregano, salt and pepper; pour over the chicken breasts and turn the breasts to coat.
Cover and refrigerate for about 12-24 hours.
Remove the chicken from the marinade but reserve about 3 tablespoons marinade.
In another bowl stir crumbled feta cheese, egg, Parmesan cheese, parsley and reserved marinade.
Place each breast on a cutting board or a working surface.
Place a generous amount of filling (about 2 tablespoons) in each pocket of the breast.
Place 1 sheet of phyllo on a work surface (keeping the remainder of the phyllo covered with plastic wrap or a damp towel to prevent drying out).
Brush the phyllo sheet with melted butter, then top with a second sheet (you will be using 2 sheets of phyllo for each breast).
Place and center the stuffed chicken breast on the phyllo about 2-inches from the bottom.
Fold bottom over the breast; fold the sides over then roll up.
Repeat with remaining breasts (keeping the remaining phyllo dough sheets covered to prevent drying).
Place seam-side down on a greased baking sheet.
Brush tops with melted butter.
Bake in oven for about 45 minutes, or until the tops are nicely browned and the chicken is no longer pink inside.
Delicious!