Rita1652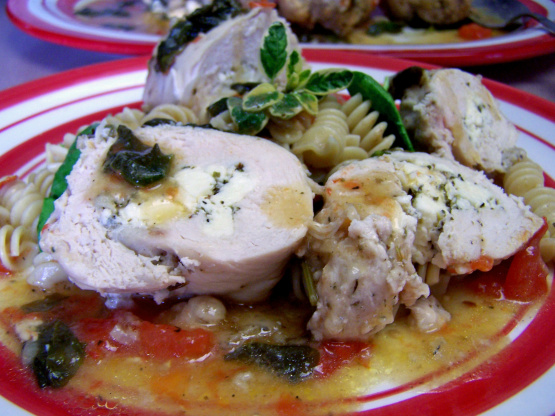 This is one of my most requested recipes, I have to make it for any big event. Once you try it you'll know why!

Oh my gosh, that was delicious! Used a packaged of frozen spinach and some cherry tomatoes sliced in half and baked it covered @ 375 for 40 mins. Served with Greek Potatoes (Recipe # 87782). Who needs to go out when you can make this at home. Thanks so much!
On large plate, combine 1 tablespoon flour, salt, and pepper. Set aside.
In a small bowl, combine cheese, lemon juice, and oregano. Set aside.
With a meat mallet, pound each chicken breast to 1/2 inch thickness.
Spread cheese mixture on each chicken breast, leaving 1/2 inch border. Fold chicken breasts in half; secure each with toothpick.
Coat chicken breasts with flour mixture.
In large skillet, heat oil over medium heat. Cook chicken breasts for 1 to 2 minutes on each side, until golden.
In a small bowl, whisk together 1 1/2 cups water, chicken bouillon cube, and remaining flour; pour over chicken breasts in pan.
Add spinach and tomato to skillet, and bring to boil. Cover, reduce heat to low, and simmer for 8 to 10 minutes, or until chicken is no longer pink inside.
Discard toothpicks before serving.