Greek Cheese Filled Frico Cups
Luschka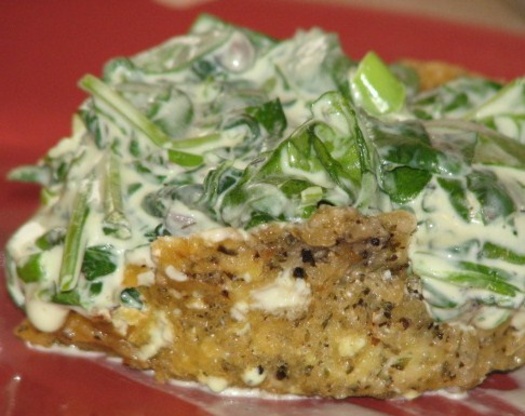 These are cute little Parmesan cheese cups in your choice of Tiropita or Spanakopita (with spinach) fashion. You can make both varieties for more selection at the table to go wonderfully as an appetizer or with your best pasta or antipasta dish.

This is a really delicious starter or presentation of vegetables for a meal. I served this with pork chops. I did, however, have a really hard time with the cups too. I finally, at fourth attempt got a reasonably okay cup out. It is really tasty though, so i didn't mind having to do it twice! (i scaled the recipe down for two). The cups also need a bit more than 3 minutes once the cheese is melted, I think. They need practice but once mastered will be great. As for the filling, it is fantastic, and I'm guessing a great way to get spinach in to those who don't like it! Thanks for a great recipe!
FILLING: Mix filling ingredients in a medium bowl. Microwave on high, 30 second at a time, stirring between intervals, until cheese is melted and the filling is warm throughout. Set aside.
FRICO CUPS: Mix parmesan cheese and seasoning in a small bowl. In a large non-stick skillet on medium heat, melt the butter (or use non-stick cooking spray) to just coat the bottom of the pan.
Sprinkle 3 thin circles of cheese in a 3" circular pattern each into the pan. Cook until they have melted and formed a light golden crust, about 3 minutes. (NOTE: If you are new to making frico cups, you may want to use a small skillet, and make one at a time).
Carefully lift and turn the layer of cheese with a spatula and cook until lightly golden on the 2nd side, about 1/2 a minute.
Immediately remove the frico from the pan and shape it by laying it over an inverted mini muffin tin.
Allow to cool slightly before filling. Fill with the cheese filling and serve immediately.