Greek Cheese and Macaroni
VickyJ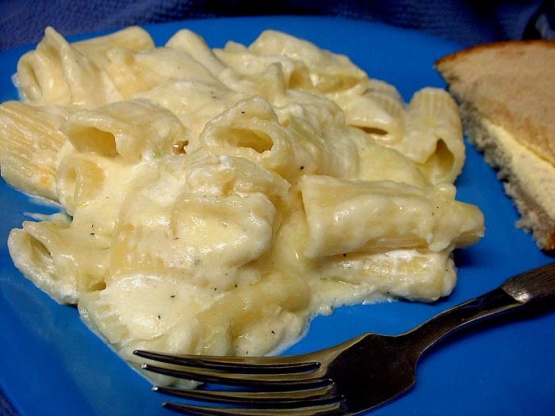 My sister's Greek friend baked this casserole for the family when our Mother passed away. I have shared this recipe with friends and have prepared it at church for many bereavement luncheons.

This was a very easy and somewhat tasty dish. It was very rich like an Alfredo. I did make few changes such as using only 1/2 cup of butter, adding a little garlic, and mozzarella. I think with a bit more sauce, some cubed chicken, and broccoli or peas this would make a very nice casserole. (4)
Boil rigatoni 10 minutes.
Drain.
Mix milk and whip cream together.
Set aside 1 cup.
In the same pan that you cooked the rigatoni pour in milk and whip cram mixture. Add salt and butter. Cook until the butter melts.
Add rigatoni and cook slowly until the mixture gets thick.
Spread half of mixture in greased 9 x 13 pan.
Sprinkle with ½ cup parmesan.
Add remaining rigatoni.
Add remaining parmesan.
Pour the one cup of milk and whip cream on top.
DO NOT STIR.
Bake 350 for 45 minutes to 1 hour.
I like to bake until top gets a little brown.