Greek Broccoli and Tomatoes
PaulaG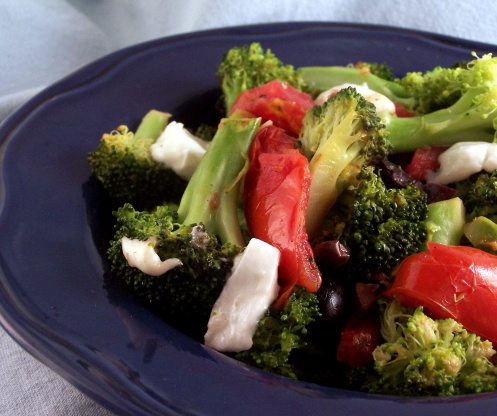 Wonderful, versatile broccoli. Change the cheese and spices as you wish, try basil and mozzarella, parmesan or asiago.

Our family really liked this dish. A very colorful dish to look at too. We substituted 2 tablespoons of chicken broth for the water. This worked well and added a little flavor. We will try again using less feta cheese or substituting it with a different type of cheese. Thanks for posting.
Trim broccoli, remove tough ends, wash and cut into small spears.
Arrange broccoli in a veggie steamer over boiling water.
Cover and steam 5 to 8 minutes or until crisp tender.
Drain, place in saucepan.
Add tomato wedges, water, garlic and oregano to pan, stir gently.
Cook uncovered, over medium low heat 10 to 15 minutes or until thoroughly heated, stirring occasionally.
Sprinkle with Feta and olives.
Remove from heat, Cover and let stand 2 to 3 minutes or until cheese melts.