WiGal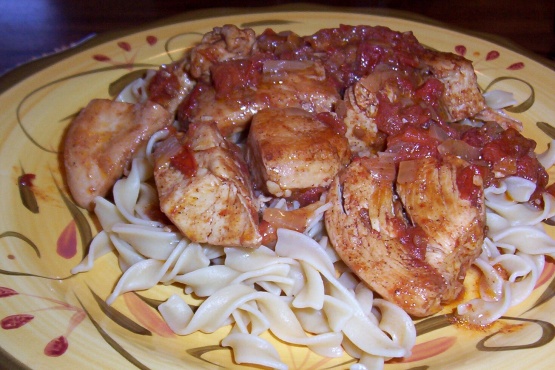 Chicken braised in wine and spices, serve with pasta of your choice and top with grated cheese, Greek salad on the side - delicious.

Top Review by WiGal
Heavenly aroma! Delicious! Divine sauce. I made this based on Chef#28636's recommendation for Top Favorites of 2008 Game. I substituted ketchup for the tomato paste as I did not have a tube of it and subbed in 1 teaspoon of ground cinnamon for the cinnamon bark. The size of the chicken is important, I cut mine too small and think the chicken itself was dry b/c of that. Now I think I should have left the breasts alone and not cut them up smaller. Served ours over noodles with salad, and Recipe#280877. Thanks lindseylcw for sharing.
Cut chicken into serving pieces and wipe dry.
Melt the butter in a heavy saucepan and brown chicken on all sides. remove when browned.
Reduce heat and add onion and garlic, fry gently until transparent, add remaining ingredients. Cover and simmer for 20 minutes.
Return chicken to the pan, cover and simmer gently for 45 minutes or until tender.
Remove bay leaf and cinnamon bark and serve.