twissis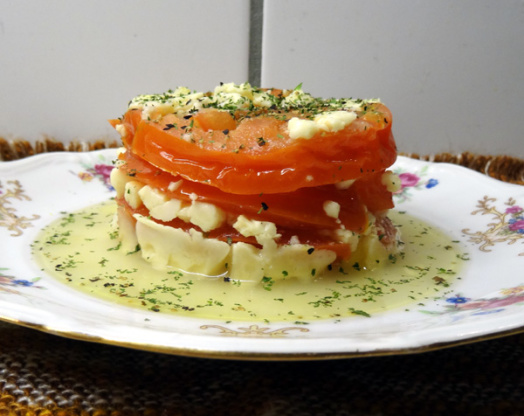 This recipe is posted here for play in ZWT9 - Greece. This recipe is from website: realgreekrecipes.blogspot.ca This is a tasty appetiser or side dish - very easy to prepare! If you want to serve it in one ceramic dish, it should be about 20 - 25 cm diameter and 5 cm high or you may serve it in small individual ceramic bowls.

Made for the FYC Tag Game & I added 1 ingredient. Garlic seemed MIA to me, so I added it & it rewarded me by shining brightly in your recipe. I was creative in the assembly. I wanted 4 individual servings so DH & I would ea have 1 for 2 nights, so I opted to use ramekins. They worked great & made assembly even faster & easier than expected. I did not use the full amt of olive oil as the feta cheese was jarred in it. The servings plated easily & baking the feta & tomatoes produced a fair amt of moisture that had a KILLER AMT OF FLAVOR. I suggest this be served w/baguette rolls so none of that flavor is wasted. This would make an ideal side-dish for tomato lovers. Thx for sharing the recipe w/us.
Cut the tomatoes into 1cm slices.
Put 1 tbsp olive oil in the ceramic bowl or bowls and place a layer of tomatoes on top of the oil.
Sprinkle a little salt, but not too much as the feta is salty, then spread 1/3 of the feta crumbled on top.
Sprinkle 1/3 of the chilli on top, then add 1 tbsp olive oil and add the tomatoes, salt, feta and chilli as before.
Add another tbsp of olive oil and once more add layers of tomato, feta and chilli.
Add a final tbsp of olive oil on top and bake in a preheated oven at 180 degrees Celsius for 30 – 40 minutes.