Thorsten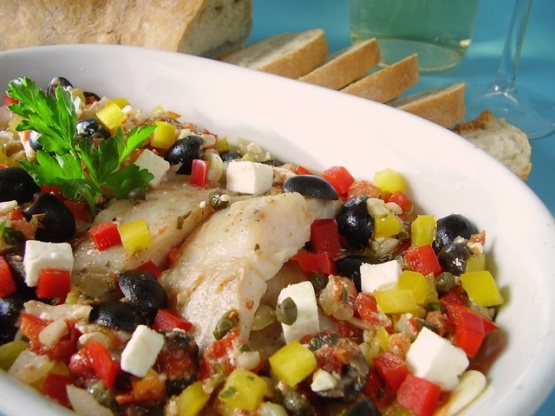 This fish dish has bold, Mediterranean flavours. It is also gorgeous to look at. Accompany with a good white wine and lots of crusty bread, cause the sauce is unbelievable.

This is one of the best tasting fish recipes I've ever made.. Like someone else mentioned, after 5 minutes, the whole house was smelling just AWESOME - it woke up my son from a nap and he said "smells amazing!".. Don't change a THING! But having said that, I talked with Evelyn offline and she did clarify that the 'canned crushed tomatoes' marketed in the USA are not the same as in Greece, so I bought a 28oz can of whole tomatoes, drained them, and crushed them lightly by hand.. worked great. Thanks Evelyn!
Preheat oven to 375°F.
Place the fish pieces in a metal baking pan.
Season lightly with salt.
Combine all the remaining ingredients, except the wine and olive oil, season, and distribute on top of fish.
Pour the wine and olive oil over and bake for about 35-40 minutes, or until the fish flakes.