Greek-Alicious Grilled Pork Chops
K9 Owned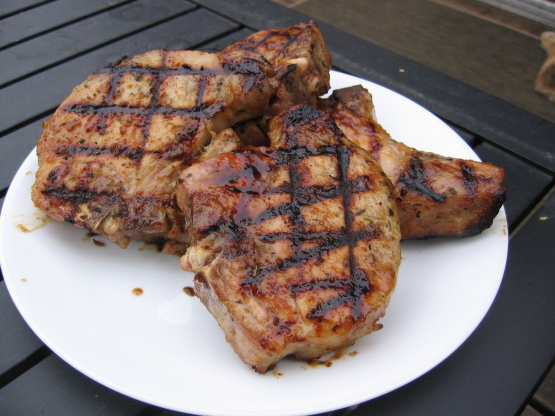 I wanted to develop a sweet and tangy Grecian-style marinade for pork chops on the grill. The honey also helps tenderize the meat and gives it a beautiful browning ability. I hope you enjoy this! (I didn't want marinade to have a strong garlic flavor, which is why I chose garlic salt.) Note: Times given do not include marinating time of at least 4 hours.

We really loved these chops! I marinated the meat for 8 hours and DH basted as he grilled. The result was succulent chops with layers of flavor. I initially thought it a tad sweet but DH thought that part was perfect. He thought the oregano was a dominant flavor yet I would consider adding more another time. By the end of the meal we both thought they were just great as is. I am a total heat wimp but used the amount of cayenne recommended. I could not discern any heat which makes it perfect for me. For those who like a little burn I'd suggest upping the cayenne. I served them with recipe #90822 and roasted carrots. We will be making this many times over the summer. Thanks so much for posting!
Trim fat from chops and pierce each side with fork twice. Place in resealable bag.
In small bowl, combine honey, lemon peel, lemon juice, oregano, oil, garlic salt and cayenne pepper. Pour over chops.
Seal bag and turn to coat chops.
Marinate in refrigerator for 4-24 hours, turning bag occasionally.
Drain chops and discard marinade.
For a Charcoal Grill: Place chops on grill rack over medium coals.
Grill uncovered for 11-14 mins., turning once halfway through, until chops are slightly pink in center and juices run clear.
For gas grill: Preheat grill on high, then reduce heat to medium.
Place chops on rack over heat, cover, and grill as above.