Bayhill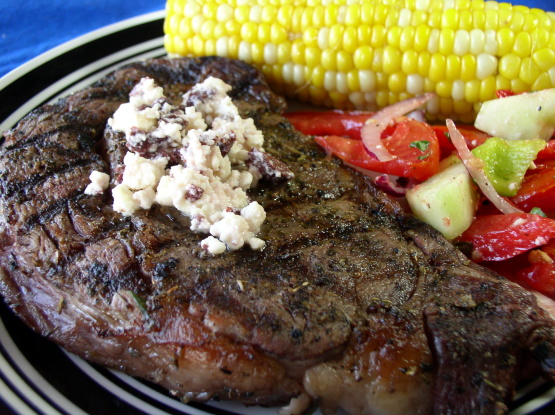 I found this recipe at Myrecipes.com, which is a site for several cooking magazines including Souther Living, which this one is from. Untried by me as of yet, posting for ZWT6. You'll find that this olive-feta-herb topping works great on chicken and lamb too.
Delicious! We really loved the dry rub and feta on this steak. I allowed the steaks to marinate for about 5 hours with the rub on them before cooking. I then grilled them on the barbeque and put the feta cheese, olives and lemon juice on while they were still on the grill. This allowed the cheese to get soft...yum! Thank you for sharing this quick and easy recipe. Made for ZWT 9 - Greece for The Apron String Travelers.
Combine first 5 ingredients; rub onto all sides of steaks.
Pour oil into a large nonstick skillet; place over medium heat until hot. Add steaks, and cook 10 to 14 minutes or to desired degree of doneness, turning once. Sprinkle with lemon juice; top with cheese and olives.
Note: I will probably grill the steak. I will brush each steak with olive oil and then rub both sides with the rub. Grill to your liking, then sprinkle with lemon juice, feta cheese and olives.