Mulligan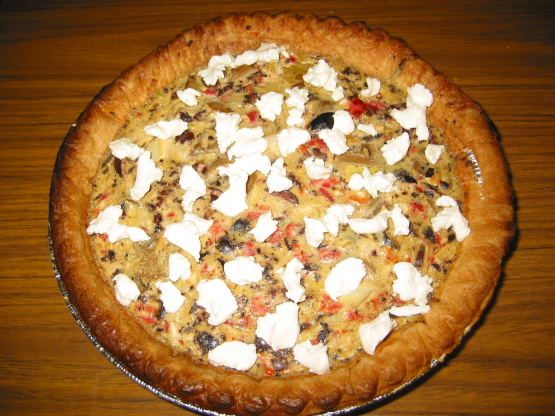 This is adapted from my low carb cookbook. I'm posting this for ZWT3.

This is a very different take on the usual quiche. I used a ready-made crust and baked it using the directions on the package. I used canned mushrooms, but I believe the fresh ones would have been better. I used egg substitute and soy milk to make a low cholesterol version. I also added artichokes. I really like the feta cheese on top. It adds a great texture to finish it all off.
Press pie crust into a 9 inch pie pan. Press into sides and bottom. Trim edges if needed.
Line with a double thickness of foil. Bake in a 450 oven for 8 minutes. Remove foil and bake for 10 more minutes.
Cool. Reduce oven temperature to 375.
In a large skillet melt butter over medium-high heat. Add mushrooms; cook and stir for 4-5 minutes or until tender.
Remove from heat. Stir in pimiento, shallots and olives.
Spoon the mixture evenly into pre-baked tart shell and set aside.
In a small bowl beat together eggs, milk, dry mustard, salt and pepper. Carefully pour over mushroom mixture.
Bake for 20-25 minutes or until just set and a knife inserted into the center comes out clean.
Sprinkle with cheese before serving.