Greatest Chips (French Fries) on Earth
Pneuma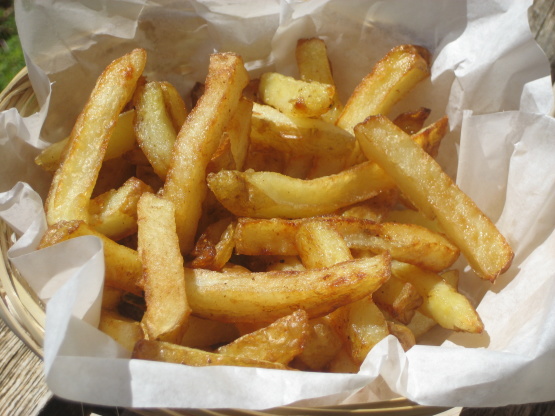 I saw this technique in the series Kitchen Chemistry by Heston Blumenthal and thought I'd share it here. Obviously the quantities don't matter just do as many as you want. You'll need a thermometer to do this recipe properly, but for the pre-cook you can just use a meat thermometer and could probably get away with guessing the warm versus hot oil temperature. I personally used bran oil but I think peanut oil would be another good choice but nothing wrong with just using regular vegetable oil either. I used a wok, Chinese scoop and infrared thermometer for the deep frying which is a neat way to deep fry using the more expensive oils because you need less oil in total and don't feel so bad using fresh oil every time. Anyway back to the recipe, the title came from the series and after trying them I think I'd have to agree with Heston. Not as much effort as it sounds and really worthwhile.

These are awesome! I had trouble getting french fries to taste good...couldnt figure it out but they always came out hard or mushy..this is a great recipe and THE ONLY way i will make fries again.Thanks PeterJ
1

kg potato
oil (for deep frying)
Fill a saucepan with plenty of water and bring up the water temperature to 62C (145F).
I found on my electric stove top that medium was a good temperature to start with and as it approached dropping back to low held it there.
Peel potato and cut into chips (French Fries). I think around 12mm (1/2") across is a good size, the recipe wouldn't be well suited to thin ones.
Pre-cook in water at 62°C (145°F) for 30 minutes, drain well and allow to cool to room temperature (takes around 15 minutes).
Deep-fry in warm oil at 130°C (265°F) for 5 minutes, drain and allow to cool to room temperature (takes around 15 minutes).
Deep-fry in hot oil at 190°C (375°F) until golden and done to your liking, around 5 minutes. If doing a lot of chips either cook in small batches or crank up the burner if using a wok when adding so the temperature of the oil doesn't drop too much.