Prep 20 mins
Cook 1 hr 30 mins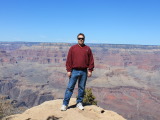 I came up with this because my wife loves everything creamy, but has been told to cut down on the dairy. The potatoes break down and give a cream soup feel and taste. It's very simple, hearty and healthy. It's also easy to come up with variations. A food processor makes for easy preparation
Directions
Simmer stock ingredients for an hour or two.
Heat oil in soup pot and saute onions and celery on med.
high heat until onions are transluscent.
Add stock, carrots and potatoes.
Simmer until carrots are tender and potatoes start to break down (about 1/2 hour to an hour).
Add water to desired consistency.
Remove a few cups and puree with a blender and return to pot.
Salt and pepper to taste.
Add additional vegetables and simmer about 20 minutes until vegetables are tender.
Serve.
Most Helpful
Yum! A good filling soup for winter days and very easy to make. The only change that I made was to use home-made (salt free) vegetable stock instead of just the plain water. .. and since it was listed as a "Vegetable" soup I also of course left out the beef bone .. also so that my vegetarian MiL could join us. Please see my Rating system, 4 lovely stars for a tasty veggie soup that we had for dinner and which I had twice for lunch. Thanks!