Bergy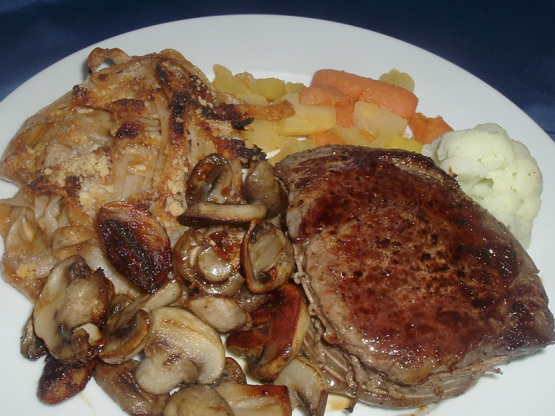 This is my dad's specialty. This great thing about is it's so easy, a very flexible dish, and always make a perfect steak, even out of a very cheap cut!

Thank you for putting out a simple, easy recipie for us simple minded people. At least someone hasn't forgotten the "little people". Appreciated!
4

New York strip steaks (This is just a guidline. You can really use any steak.)
seasoning salt (I like Lawry's)
Unwrap steak.
Sprinkle first side of each steak with desired amount of seasoned salt.
Rub salt into meat using fingertips.
Flip all steaks over and rub in more seasoned salt.
Put aluminum foil on broiler.
Turn broiler on and wait one-minute for broiler to warm.
Put steak directly on foil on broiler.
Turn timer on for 9 minutes (for thick steaks, less for thin ones).
When timer rings, flip each steak and set timer for another 9 minutes.
They will be medium, cook for more or less if desired.
Take out steaks and enjoy!
Serve with mashed potatoes, corn on the cob, and bread (preferably sourdough or pumpernickel) if you want to make a meal.
This recipe can also be done on the grill.