Juenessa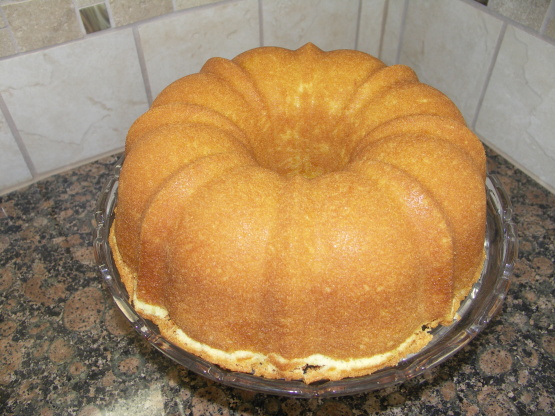 From "A Little Taste of Texas Cookbook". I always want to make sure my cakes are moist and my aunt taught me to add a dollop of mayonnaise to any and all cake batter. I add it to this cake too. Try it if you like, but it is not necessary and not in the original recipe.

Delightful flavor - this is a MUST for pound cake lovers. We ate part and sent the rest to the neighbors - who thanked me profusely and asked for the recipe! Apparently it's a hit, Juenessa! Thanks for posting!
Cream together Crisco, butter and sugar.
Add eggs, beating well after each addition.
Sift flour and baking powder in separate bowl.
Add dry ingredients and milk alternately to butter mixture, beginning and ending with flour.
Add rum and coconut extracts.
Pour into a large greased and floured bundt pan and place pan on a cookie sheet.
Bake at 300° for 1 1/2 to 1 3/4 hours. Test with toothpick for doneness.
Right before cake should be done, bring water and sugar to rolling boil.
Remove from heat and add almond extract.
While cake is still in pan, pour the glaze over cake and let stand about 30 minutes before removing from pan.